"Mathew Algeo strides fearlessly into a rich and little-known area of sporting history. --Geoff Nicholson, author of The Lost Art of Walking: The History, Science, and Literature of Pedestrianism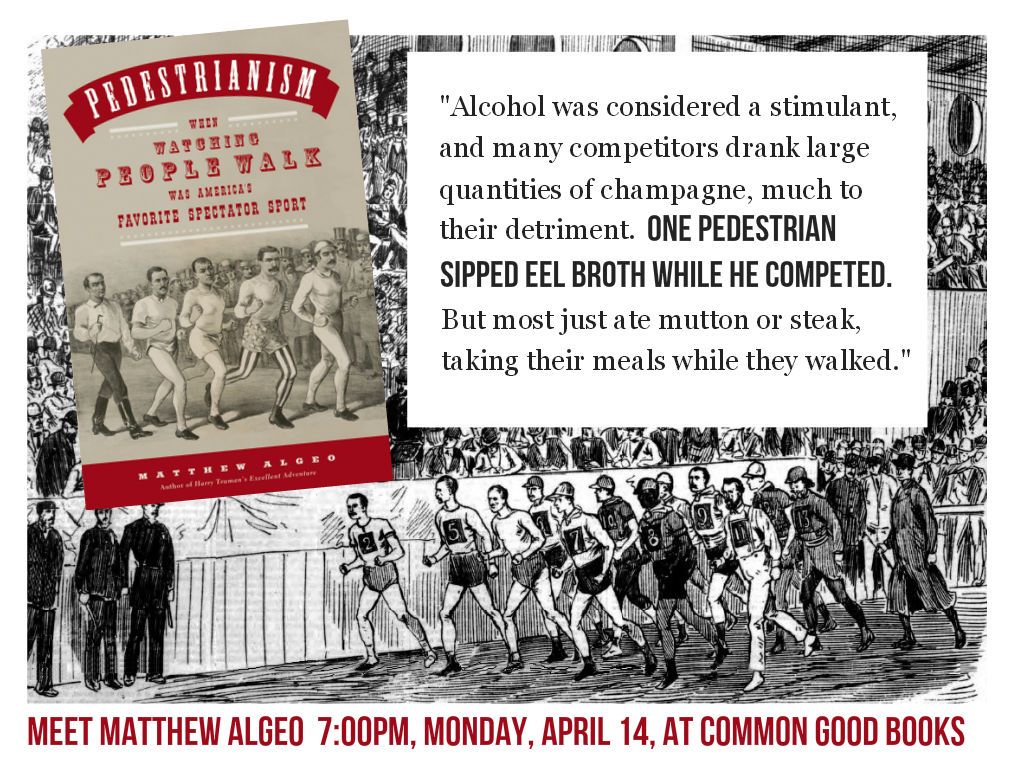 Strange as it sounds, during the 1870s and 1880s, America's most popular spectator sport wasn't baseball, football, or horseracing--it was competitive walking. Inside sold-out arenas, competitors walked around dirt tracks almost nonstop for six straight days (never on Sunday), risking their health and sanity to see who could walk the farthest--more than 500 miles. These walking matches were as talked about as the weather, the details reported in newspapers and telegraphed to fans from coast to coast. This long-forgotten sport, known as pedestrianism, spawned America's first celebrity athletes and opened doors for immigrants, African Americans, and women. But along with the excitement came the inevitable scandals, charges of doping and insider gambling, and even a riot in 1879. Matthew Algeo's book Pedestrianism chronicles competitive walking's peculiar appeal and popularity, its rapid demise, and its enduring influence.
----
Matthew Algeo is the author of Harry Truman's Excellent Adventure, Last Team Standing, and The President Is a Sick Man. An award-winning journalist, he has reported from three continents for public radio's All Things Considered, Marketplace, and Morning Edition. He lives in Washington, DC.
----
Twin Cities Volkssports is one of five Minnesota volunteer-based, non-profit clubs which cooperate in organizing non-competitive walk events (as well as a few bike, cross-country ski, and snowshoe events) throughout the state. These events are open to the public. Membership is not required, but there is a small fee to cover expenses. All events are sanctioned by the International Federation of Popular Sports and the American Volkssport Association. Club members track their accomplishments in event and distance logbooks and earn achievement awards as they participate. TCV's motto is fun, fitness, and friendship. Safe exercise in a non-competitive environment is the goal. The participant chooses the sport, the distance, and the pace with flexible event start and finish times. Volkssporters around the world organize thousands of events each year for people of all ages and abilities. For more information, please visit www.TCVwalking.com or www.AVA.org.
Event date:
Monday, April 14, 2014 - 7:00pm

$24.95
ISBN: 9781613743973
Availability: Not in Our Store - Available to Order
Published: Chicago Review Press - April 1st, 2014
---