We Sit, Paintings by Marley Kaul, Poems by Taiju Geri Wilimek is a partnership between well-known Minnesota artist Marley Kaul and poet Taiju Geri Wilimek. After Marley Kaul, emeritus professor of visual arts at Bemidji State University, was diagnosed with pulmonary fibrosis three years ago, he began to contemplate about what lies ahead. During a visit with a friend, who is a poet and licensed social worker, they came up with the idea for a project to work on together that examines the dynamics of life and death as they arise every day. The works were created independently of each other, then paired up in We Sit, Paintings by Marley Kaul, Poems by Taiju Geri Wilimek.
----
Marley Kaul was born and raised on a farm in Good Thunder, Minn. He says his rural upbringing has allowed for keen observation, helping him gain insights about "death, birth, growth, and family." He became an artist, and educator, and a parent. After earning a Master of Fine Arts at the University of Oregon, he taught painting and drawing at Bemidji State University in northern Minnesota until his retirement in 1997. Since retiring, Kaul has spent most of his days in his studio painting. His work has been widely exhibited. He has also released two Books: Letters to Isabella, Paintings by Marley Kaul and We Sit, Paintings by Marley Kaul, Poems by Taiju Geri Wilimek. His writing and painting can be viewed at marleykaul.com

Taiju Geri Wilimek, a mother and grandmother, has degrees in both Philosophy and Social Work. In her early 40s, she confronted her mortality after a diagnosis of breast cancer. "Giving birth and facing death have been the most physically challenging and mind-clarifying experiences of my life. I am compelled to fully occupy my life, vowing not to waste it," she says. Wilimek is a Licensed Independent Clinical Social Worker in Bemidji, where she lives and works in private practice with her husband, Jay, a Licensed Psychologist. She says studying, practicing, and teaching mindful meditation in both secular and Buddhist contexts has informed and sustained her artistic and professional work. In We Sit, she uses her given Buddhist name, Taiju, to honor the influence of her Buddhist teachers. Writing poetry has been a lifelong practice for her that has been a quiet, personal way to explore being human.

These authors are available for interviews. Please contact:
Rachel M. Anderson. RMA Publicity
rachel@rmapublicity.com
Event date:
Saturday, April 6, 2019 - 7:00pm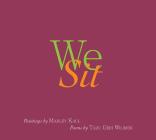 $20.00
ISBN: 9781732389403
Availability: On Our Shelves Now
Published: Mill Studio Press - August 16th, 2018
---