Endurance: L'Incroyable Voyage de Shackleton (Paperback)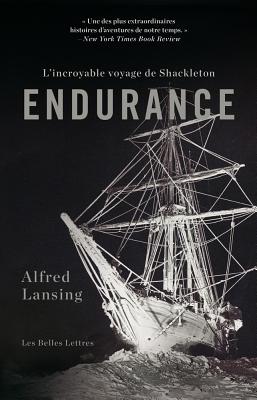 $27.00
Special Order Only - Please Contact Us
Staff Reviews
---
"Still the best account of Shackleton's famous adventure, complete with Frank Hurley's stunning photographs. My favorite book of all time."
— Keelin
Description
---
L'Odyssee de Shackleton et de ses compagnons est l'une des plus sensationnelles de l'histoire de la mer. La volonte et l'energie deployees par cette poignee d'hommes dans leur lutte titanesque contre les forces dechainees de la Nature ont fait reculer les limites connues de la resistance humaine. Le 18 janvier 1915, l'Endurance ayant a son bord une expedition se proposant de traverser a pied le continent antarctique est prise par la banquise sans avoir pu toucher terre. Le 27 octobre suivant, le trois-mats, peu a peu ecrase par la pression des glaces, est evacue; les 28 hommes de l'expedition se retrouvent sur un floe, a 2 000 km du plus proche avant-poste. Ils derivent jusqu'en avril 1916 et peuvent alors mettre a l'eau les trois embarcations de l'Endurance et gagner l'Ile de l'Elephant. Shackleton et cinq de ses compagnons en repartent pour aller, a travers l'ocean le plus tempetueux du globe, chercher du secours en Georgie du Sud, a 800 milles de la. Cet incroyable exploit, dans une embarcation non pontee, est l'un des plus remarquables de l'histoire de la navigation. Parvenus sur la cote sud, Shackleton et deux de ses compagnons ont encore la force d'entreprendre la traversee a pied de la Georgie du Sud, un effroyable chaos de montagnes et de glaciers, munis d'une simple corde et d'une herminette de charpentier, performance qui ne sera renouvelee que 40 ans plus tard par une expedition dotee de grands moyens. Les trois hommes atteignent le 20 mai 1916 le petit port baleinier de Stromness. Deux jours apres les trois compagnons restes sur la cote sud sont sauves, le 30 aout ceux de l'Ile de l'Elephant le sont egalement. Certes, le but de l'expedition n'a pas ete atteint. Mais ces 28 hommes ont fait infiniment plus.
About the Author
---
Alfred Lansing (1921-1975) a dispose des journaux tenus par les membres de l'expedition et a rencontre plusieurs des survivants. Son recit de l'invraisemblable epopee est ecrit avec un luxe de details dont aucun n'est invente. Il fait admirablement revivre la longue et permanente lutte des naufrages. Cent fois ceux-ci ont ete sur le point de succomber et pourtant ils sont sortis vainqueurs du combat.Aucun recit d'aventure de mer n'est plus emouvant, plus exaltant, plus passionnant que celui-ci. Endurance est un sommet de la litterature maritime.