Becoming Wellstone: Healing from Tragedy and Carrying on My Father's Legacy (Paperback)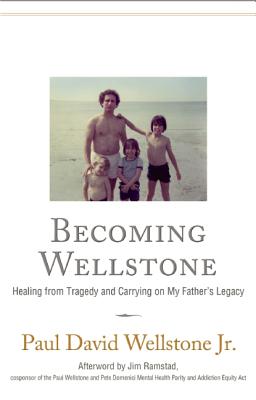 Description
---
Paul David Wellstone Jr. (known as Dave) fell into a zombie-like state of shock when he first got word that the eleven-seater plane carrying his parents and sister couldn't be located on radar. It was as if he were watching someone else drive from the campaign office to his brother's home, then north to Minnesota's Iron Range where his dad had been heading to attend the funeral of a steelworker. But when he saw smoke on the horizon, it was with tremendous focus that he turned off the highway and drove straight toward the plume cutting up into the slate-gray sky.
On October 25, 2002, Senator Paul Wellstone, his wife, Sheila, and his daughter, Marcia, died in that tragic plane crash. Senator Wellstone was an admired and respected political leader known for his bipartisan spirit and passion for championing causes that impacted the overlooked and underrepresented. As his son Dave reveals in this intimate memoir, he was also a loving advisor and an engaged father who taught his children to live with compassion and to "Think for yourself; don't just go around with the crowd. Never be afraid to take an unpopular stand."
"Becoming Wellstone" is an insider's look at Paul Wellstone in action, revealing the man behind the visionary leader who challenged the status quo. We move with Dave from a childhood of touch-football games, family dinners, and political rallies to a young adulthood engulfed in loss. We see this son struggle to work through tragedy and slowly regain the strength to look ahead--becoming a great leader in his own right, and championing one of his father's great life achievements: the enactment of the Paul Wellstone and Pete Domenici Mental Health Parity and Addiction Equity Act, bringing mental health and substance abuse treatment benefits to the masses.
About the Author
---
Paul D. Wellstone Jr., son of Senator Paul Wellstone, is the founding partner of Family Place Home Builders, a business dedicated to building affordable housing. He resides in St. Paul, Minnesota, with his wife Leah. A graduate of Hamline University, Dave is a founder, with his brother Mark, of Wellstone Action, and founder of a new non-profit devoted to mental-health parity issues. He is a co-founder of the Wellstone Center in the Redwoods, located amid the spectacular beauty of the Santa Cruz Mountains in California, which seeks to promote an atmosphere of tranquility and calm and to bolster the talents and capabilities of people through workshops, seminars, and residencies. Dave will be leading workshops on this book at the Center.

Afterword by Jim Ramstad: cosponsor of the Paul Wellstone Mental Health and Addiction Equity Act

Former Representative Jim Ramstad (R-MN) served in Congress for 18 years, and made ending discrimination against those with addiction and mental health issues one of his chief causes. He co-sponsored the bipartisan Paul Wellsone and Pete Domenici Mental Health Parity and Addiction Equity Act of 2008.