You are here
The Soup & Bread Cookbook: More Than 100 Seasonal Pairings for Simple, Satisfying Meals (Paperback)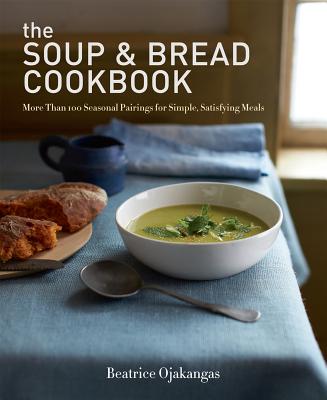 Description
---
From one of America's most prolific and beloved cookbook authors comes a compendium of unique recipes for a universally appealing subject. This broad collection of soups, broths, bisques, and chowders ranges from summer coolers and hearty, warming stews to smooth, creamy soups and fiery broths. Marked by their straightforward preparation, accessible ingredients, and original pairings, Ojakangas's collection not only taps into her Scandinavian heritage but into flavorful soups from around the world-there's Swedish Pea, Morroccan Vegetable, Borscht, and Chicken and Dumplings to Feijoida, French Onion, Italian Meatball, and Asian Lemon Ginger. The bread recipes alone could fill a cookbook. Loaves, buns, sticks, and flatbreads are here, along with pretzels, pitas, toasts and focaccias. Organized by season and complemented by evocative photographs, The Soup & Bread Cookbook is an ideal volume for anyone who takes comfort in the essential pleasures of a bowl of soup and warm bread.
About the Author
---
BEATRICE OJAKANGAS is a James Beard hall of fame member and award-winning author who has written 28 cookbooks, including The Finnish Cookbook, which is in its 38th printing. One of America's most trusted home cooks, she has written for many of the nation's leading magazines including Bon Appetit, Country Living, Southern Living, and Eating Well. She lives in Duluth, MN.
Praise For…
---
"[The Soup & Bread Cookbook] provides ample excuses to turn on the oven and warm up the kitchen, and as the days get crisper and darker, I will be hugging this book close."
"This is definitely a year-round kitchen companion.""I tend to view bread as a vehicle for sopping up the last drips from the bottom of the bowl, but in Ojakangas' hands, it's obvious that the relationship has much more potential…Ojakangas gets really inventive with her breads."
—THE KITCHN.COM
"This book is a delight…Every recipe we have tried has been 5 star quality." –
SWEETHAPPYLIFE.COM
"This…will banish the Campbell's from your cupboard forever."
– THE SPLENDID TABLE