Underground: New and Selected Poems (Paperback)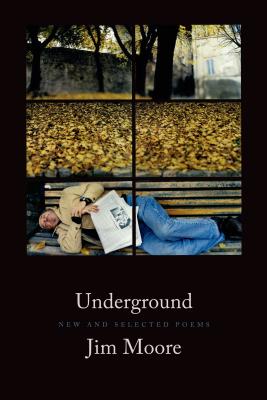 Description
---
"Jim Moore writes of history, of love, of pain, of the intimate revelations of a consciousness alive to itself." --C. K. Williams
"It's coming so fast,"

says an old woman across from me,
speaking to no one in particular:

she nods her head in agreement with herself
and strictly speaking
who can argue with her? --from "Underground"
Jim Moore's first career retrospective shows a poet whittling down experience to its essential confrontation with one's own limitations, whether it be time running short, or understanding running thin, or capacity to think or feel or love enough running low. Underground gathers the best poems from Moore's seven previous books and includes twenty new poems. This is the definitive volume by a poet of great depth and generosity.
About the Author
---
Jim Moore is the author of seven books of poetry, including Invisible Strings and Lightning at Dinner. His poetry has appeared in The New Yorker, The Nation, and The Paris Review. He lives in Minneapolis, Minnesota, and Spoleto, Italy.
Praise For…
---
Praise for Jim Moore
 
"Jim Moore's poems are an artful amalgam of humor and fierce attention, suffused by a passion for ancient Asian poetry. Like his sage poet-teachers he grasps the quiet power of white space, knowing that what is unsaid is often just as crucial as what is." —The New York Times
 
"I have loved Jim Moore's brief 'invisible strings' since I first stumbled into a few in a magazine. They are chips of reality, obsidian flakes of the heart and mind." —Jane Hirshfield, Ploughshares